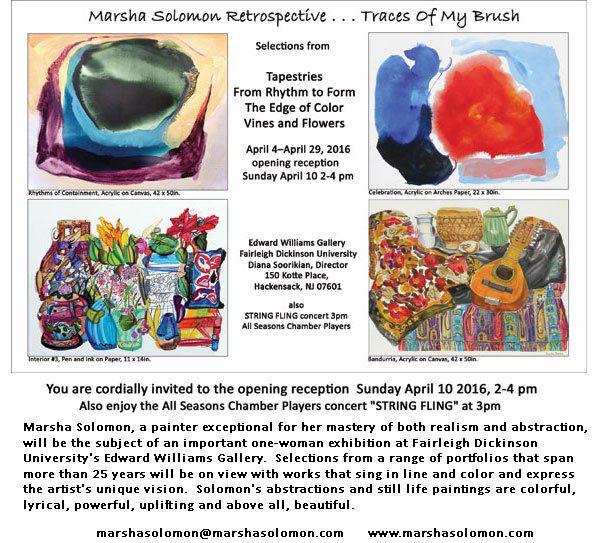 FOR IMMEDIATE RELEASE
"Marsha Solomon Retrospective … Traces of My Brush"
April 4-29, 2016 Opening Reception – Sunday, April 10, 2-4 pm
New York painter Marsha Solomon, a master of both contemporary realism and abstraction will be featured in "Traces of My Brush" her first retrospective exhibition at Fairleigh Dickinson's Edward Williams Gallery, curated by Diana Soorikian, from April 4 to 29, 2016. Selections from four different series of paintings will be included and will cover more than 20 years of Solomon's lyrical, colorful work. The exhibition is free and open to the public.
Solomon's large, color field abstractions from the series "From Rhythm to Form" reflect the influence of the New York School of Abstract Expressionism. They have often been likened to the paintings of Helen Frankenthaler, Morris Louis, and Robert Motherwell. With transparent pools of intense pigment surrounded by thick, vigorous brushstrokes, they chronicle the duality of activity and quietude. They are like ying-yang symbols enacted in paint, inviting deep reflection and evoking a contemplative state.
Her response to nature and to the brush arts of Asia can be seen in "Vines and Flowers." For this series, Solomon studied classical sumi-e ink techniques as practiced by the 15th and 16th century poet-painters of China. "Winter Branch" translates revered practices into a vibrant contemporary nature study.
In her series, "Tapestries" and "The Edge of Color" in both acrylic on canvas and works on paper, Solomon mines the creative possibilities found in groups of objects, from patterns in fabrics, to the forms of plants and flowers, to the translucencies of colored glass. Her still life paintings are alive with line and color. Solomon states, "For me, a still life is never still."
Marsha Solomon is represented by Able Fine Art Gallery in NY and Seoul, Korea. Her work has been widely exhibited in museums and galleries both nationally and internationally. It has been reviewed and featured in magazines and newspapers. "Traces of My Brush" is her first retrospective, and her second solo exhibition in New Jersey. There is an opening reception on Sunday, April 10th from 2-4 p.m. and the artist will be present to discuss her work. Also, at the same time, the All Seasons Chamber Players will present "String Fling" in the adjacent concert hall.
Marsha Solomon's paintings are filled with bold brushwork, strong lines and bright colors. They evoke a joyous vision, and at the same time a deep tranquility. In the field of contemporary art, where concepts and politics often drown out the visual, Solomon's paintings are a refuge.
Fairleigh Dickinson University, Edward Williams Gallery, 150 Kotte Place, Hackensack, NJ 07601
Gallery Hours: Weekdays 8:30 a.m. to 8:30 p.m. Saturdays 9:30 to 2:30 p.m.
Director, Diana Soorikian, For information 201-692-2449