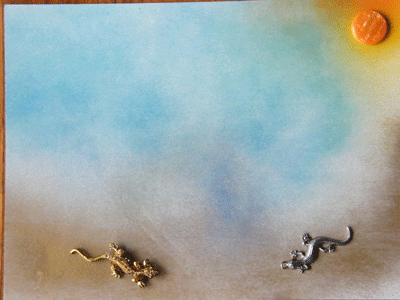 (copyright de l'artiste)

THE LIZARD CATCHERS
(for Molly)
by Peter Thabit Jones
Tattooed on the rocks in the midday sun,
They were hieroglyphs we understood.
Behind the boy-tall grass, we slyly sat
As patient as pyramid statue-cats.
The moments burned; the flying rooks were vultures;
The sky was blue, some brittle clouds in heaven.
Like 'palm crocodiles', like playtime dinosaurs,
They basked in a freedom known aeons ago.
As dry as Lazarus just from the tomb,
Legged snakes, rest lodged in them as sweet as dust.
As still as lizards photographed, like taut thoughts,
The smoke of autumn's drug dreamed through their world.
One by one, we hurried to seize our catch;
The lizards darted, swimming though the grass,
Discarding their tails tugged off by clumsy grasps.
Then we claimed the rocks and blessed them with our laughs.
From The Lizard Catchers (Cross-Cultural Communications, 2006


LIEN: http://www.peterthabitjones.com/