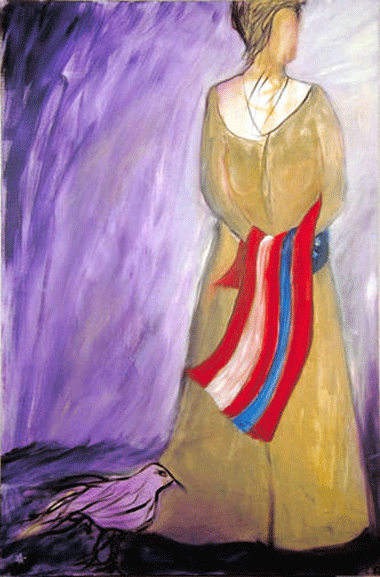 MARTHA WASHINGTON CROSSING THE DELAWARE (copyright Lawrence Ferlinghetti)
LIEN: http://www.georgekrevskygallery.com/

COURTESY OF Mr. ALAN SELSOR, GEORGE KREVSKY GALLERY, SAN FRANCISCO
Lawrence Ferlinghetti:
Lawrence Ferlinghetti   
Evolution of a Painter
November 5, 2009 - December 19, 2009
 
 

exhibition artwork

Lawrence Ferlinghetti is not only a master of words and metaphors, but also a master of color and visual symbolism. He has been painting and drawing for as long as he has been writing. This solo exhibition is the first to take a retrospective view, giving insight into Ferlinghetti's development as a visual artist over six decades.

Ferlinghetti's art is lyrical, political, passionate, opinionated, sometimes personal, and often controversial. It occupies a distinct place in the international dialogue on culture and society. His mother's family was French and his father Italian, and both France and Italy have played key roles in Ferlinghetti's artistic career.

Ferlinghetti began his art studies in 1948 in Paris, while working on his doctorate in literature at the Sorbonne. In 1950 he completed his first painting, a surrealist composition inspired by another great author/artist, Jean Cocteau. After arriving in San Francisco in 1953, Ferlinghetti rented the studio recently vacated by Hassel Smith. Ferlinghetti explored Abstract Expressionism for a time, but the human figure has come to dominate his mature art.

The artist has affinities with the postmodern expressionism of the Italian Transavanguardia, a movement defined by the art critic, Achille Bonito Oliva. Bonito Oliva has referred to Ferlinghetti as an honorary member of a group that includes Sandro Chia, Francesco Clemente, and Mimmo Paladino. Ferlinghetti has also been embraced by contemporary European Fluxus, a neo-dadaist movement centered at the Archivio Conz in Verona. Fluxus is an art that is almost "anti-art," making use of found objects and cultural references. A Ferlinghetti painting may incorporate a quote from another poet, an image from another painter, or a recognizable icon like the Winged Victory of Samothrace. These "borrowed" elements are often put to ironic or satirical uses.

Ferlinghetti has been the subject of solo museum shows at the Butler Institute of American Art (Youngstown, OH) and in Belgium, Czech Republic, and Italy. Paintings have been acquired for the permanent collections of the Smithsonian Museum of American Art and the Fine Arts Museums of San Francisco.

Evolution of a Painter will be the artist's six solo exhibition at the George Krevsky Gallery, which has represented Ferlinghetti since 1995.