If You Hold a Mirror
If you hold a mirror
In your hands in a room
The room is real
Or is its expression.
Water like far off foil
Shook in the desert
Is the desert's need
To quench its loneliness.
On the floor
Art was the talk
Draining from the corners
Of your mouth.
If you can you should
Look for the color
Nearest to you.
All you have done
What you wanted to become
Amounts to a shadow
Vacant and thin
In the moon's eye.
-Andrew Deloss Eaton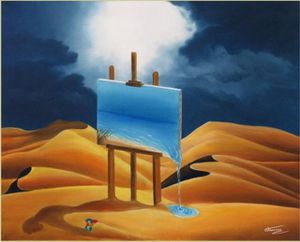 LIEN: www.pcset.com (copyright de l'artiste)